Psychology Career Guide
Consider a featured online psychology program currently taking applications.

View more featured 100% online psychology programs accepting applications for 2023.
Learn About the Best Psychology Careers & Jobs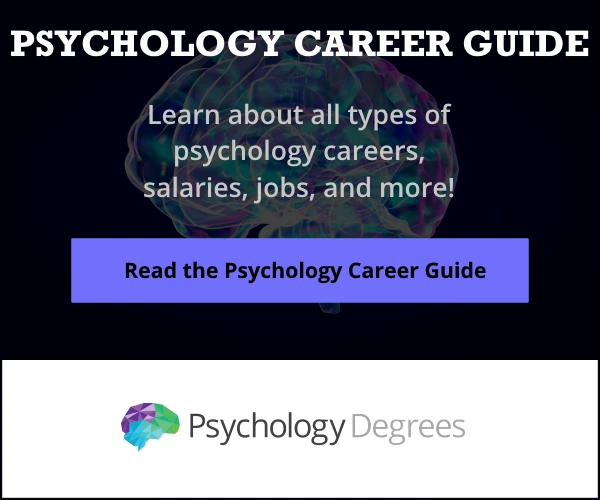 With a degree in Psychology, you can find many different careers within Psychology or Counseling.
Salaries and outlook for future job growth are dependent on the degree of Psychology you have, as well as the area, or type of psychology you pursue. Use this careers list to start figuring out which types of Psychology careers are out there, see which psychology degrees are best for each position, and learn more about some of the top careers in Psychology.
What is a Psychologist and What Do They Do? An Overview
At the most general level, a psychologist is a professional who evaluates and studies behavior and mental processes.
Some psychologists focus on clinical work, where they help patients with issues they may be having.
Other psychologists spend their time researching theory and data to come up with new philosophies.
Keep in mind: most states require a minimum of Master's degree in Psychology and many require a Doctoral degree to practice clinically. To get into the field you may consider an online featured program in a related field or focus.
Areas of Psychology
You can work in multiple different jobs as a psychologist (see our list of the top 25 psychology careers below), but there are several major areas of psychology:
1. Clinical Psychology degree programs: The most predominate area in which psychologists work is in clinical setting. There are an estimated 150,000+ people working in a clinical psychology setting. This area of psychology includes what most people think of when they think of psychology: a psychologist in a private, office setting, helping patients through their issues and problems.
2. Organizational Psychology degree programs: Organizational / business / industrial psychology is a growing area. Businesses hire organizational psychologists to help with Human Resources, the hiring process, management, and even marketing.
3. Counseling Psychology degree programs: A closely related area of psychology to clinical psychology is counseling psychology. Similar to the clinical setting, counselors work in mostly private settings helping patients. Most counselors do not work in a private practice, but a larger organization such as a hospital, non-profit, or institution of education.
In the United States, there are an estimated 181,700 psychologist jobs, with an estimated increase in job growth of 14%. Most psychologists are employed in clinical, counseling, and school positions, as of the last data in 2018 from the US Department of Labor Bureau of Labor Statistics (BLS).
Search Online Psychology Programs
Types of Psychology
There are many different types of psychology – over 30 of them, by our count. We have assembled all of the different pscyhology degrees and matched them up to the different types of psychology. Then, we have researched the top careers in psychology and gathered them into one comprehensive list. From this list below on the top 25 psychology careers, you will find out the following information for each of the top 25 psychology careers listed below:
PSYCHOLOGY OCCUPATION: The name of the psychology occupation
AREA OF STUDY: The area of psychology the job is within
BRIEF JOB DESCRIPTION: A summary of the job description for the psychology career
MIN DEGREE: The minimum degree requirements for the career
A JOB FOR…: In just a few words, who this job would be good for (assuming you have a basic interest in general psychology of course)
Top 25 Psychology Careers
---
Top Psychology Salaries
Below are the top careers, salarly information, and employment information that is expected of the career in Psychology.
Data from the BLS.
| PSYCHOLOGISTS | EMPLOYED | MEDIAN SALARY | EST INCREASE: JOBS BY 2024 |
| --- | --- | --- | --- |
| Psychologists | 173,900 | $70,700 | 19% (much faster than average) |
| Clinical Psychologists | 104,730 | $68,900 | 19% (much faster than average) |
| Mental Health Counselors | 168,200 | $42,250 | 19% (much faster than average) |
| Substance Abuse and Behavioral Disorder Counselors | 94,900 | $39,270 | 22% (much faster than average) |
| School and Career Counselors | 273,400 | $53,370 | 8% (as fast as average) |
| Social Workers | 649,300 | $45,500 | 12% (faster than average) |