Online Psychology Degrees
Consider a featured online psychology program currently taking applications.

View more featured 100% online psychology programs accepting applications for 2023.
Best review of 600+ Online Psychology Programs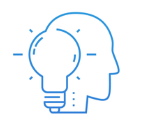 There are hundreds of Psychology degrees available through distance learning, hybrid programs, or 100% online. Overall, online Psychology Degree Programs are available at 600+ different US-based universities.
Online degrees in psychology provide a thorough investigation into different aspects of psychological learning, from the Freudian school of thought to more recent behavioral modification techniques.
The addition of distance education for students was truly monumental in the field of psychology. Online degree programs allow students to adjust their course schedule to fit their lifestyle. Online psychology courses typically do not require students to attend on certain days or certain times, making these courses much more preferred for individuals with busy schedules.
Advantages of an Online Psychology Degree
One of the more attractive features of online psychology degree programs is their flexibility. There are degree paths that provide for accelerated learning, condensing class material into shorter time frames, and traditional learning, which uses a standard spread of material over the length of the typical semester. Not only have these programs been designed for convenience, but they also cater to the different learning speeds of their learners.
Degree Levels Available
Online degrees in psychology range from professional certificate programs to master's degrees. There are also doctoral programs available which may require students to attend weekend practicums as part of the degree process.
As an undergraduate, students will first be required to pass general education requirements. These prerequisites include courses in Math, History, and Science.
After these requirements are met, students will move on to more psychologically focused online courses. These courses are well outlined and designed to effectively reach new and seasoned students of psychology. Undergraduate psychology courses include Cognition, Perception, Social Psychology, Abnormal Psychology, and a wide variety of others. Students can choose courses that complement their intended professional path, lessening the possibility that unnecessary classes are taken.
Graduate Degrees
Online students working on graduate level degrees will take courses that are specific to their degree path. Online graduate level psychology degrees include those in Clinical Psychology, Counseling, School Psychology, Industrial-Organizational Psychology, and more. Coursework is more focused on research and application of different theories depending on the degree path. Students are given the flexibility and freedom to think openly and make educated and verifiable choices throughout online graduate programs. Online support is a priority for schools that provide distance education, making the entire process much easier for new students to use effectively.
Online Psychology Degree Programs are available at 600+ different US-based universities
The use of technology has changed the way the world works. Aside from providing new and innovative ways of conducting business, it has also provided for exciting new ways to pursue an education.
Those seeking a productive and profitable career in psychology will find that the internet is a time-effective and cost-efficient way to get the degree they choose.
Top Online Bachelor of Psychology Programs Updated for 2023
University of Florida - Gainesville, FL - BA Psychology
University of Florida's department believes in retaining a diverse group of students and faculty. They guarantee that the department's culture is supportive and respectful to all. This online degree requires coursework in psychology, statistics, mathematics, and biology. There are four core area to explore within the program, along with many electives.
Applicants, along with their application, must submit their high school transcripts and ACT/SAT test scores. Any college-level work should be submitted (e.g. transcripts, test scores). University of Florida has different admission requirements based on applicant type (e.g. transfer students, home-school students, etc.)
Florida International University - Miami, FL - BA Psychology
The University of Florida reflects the latest trends in psychotherapy. They offer five areas of electives: cognitive/neuroscience, social, applied, clinical/personality, and developmental.
Applicants are required to submit an application, official SAT or ACT scores, and high school transcripts. Once accepted, students need to complete 120 credits.
Semesters start in fall, spring, and summer. In-state tuition is $7,186 for the year, while out-of-state is $10,697 for the online program.
University of Central Florida - Orlando, FL - BS Psychology
The University of Central Florida offers six tracks within their online psychology program: clinical, experimental, general, human factors, industrial/organization, and neuroscience.
Applicants must submit a complete "SPARK" form that is special to the university plus an online application. Along with those two items, official SAT or ACT scores are required along with official transcripts.
Top Online Master of Psychology Programs, updated 2023
McNeese State University - Lake Charles, LA - MA Psychology
McNeese State University is designed to give students a deeper understanding of human behavior from different viewpoints. The masters of psychology program offer three areas of concentration: behavior analysis, counseling, and general/experimental.
Those looking to become therapists usually choose the counseling psychology track. The general/experimental concentration is typical for students looking to pursue doctoral studies. The behavior analysis track leads to certification as a Board Certified Behavior Analyst.
Applicants must submit official transcripts with an undergraduate GPA of at least 2.5. A bachelor's degree in psychology is recommended. Prospective students need credits in statistics and 18 psychology credits. GRE scores are required with a combined score of 285.
University of Louisiana at Monroe - Monroe, LA - MS Psychology
The psychology master's program at ULM offers a general track and an optional forensic psychology track. The general degree requires a core class along with 24 elective psychology credits. Both tracks offer an optional clinical practicum and thesis.
General admission requires an online application, official transcripts from all schools attended, and GRE scores. The psychology program has two sets of requirements: 1) a GPA of at least 3.0 or 3) a GPA of at least 2.75 and a GRE score of 290.
University of Alabama - Tuscaloosa, AL - MA Education Psychology
University of Alabama's educational psychology master's program provides training in cognition/learning, educational research, and program evaluation skills. This degree is for students planning to pursue an educational specialist or an educational psychology Ph.D. Be aware that this degree does not lead to certification as a school psychologist.
Applicants can apply year-round and test scores have been waived until Fall 2022. Other admission requirements include an undergraduate GPA of 3.0.
Online Curriculum for Psychology Degrees
Psychology deals directly with people and their behavior. It is important that psychology professionals receive reputable and reliable degrees prior to practicing with the public.
Online degrees in psychology provide a thorough investigation into different aspects of psychological learning, from the Freudian school of thought to more recent behavioral modification techniques.
While attending online psychology courses, students will still partake in class discussions, writing assignments, and even research projects just as if they were attending traditional in-person classes.
The relevance of these theories and how they contribute to modern psychological practices is something that students will learn to understand while studying in online courses. Online degree programs provide exactly what students need in order to fully understand and apply these theories throughout their educational and professional career.
Search Online Psychology Programs
Specialty Programs for Online Psychology Degrees
There are a lot of degree programs that rely heavily on lab expertise and hands on experience as part of the learning process. Psychology is not one of these subjects. Psychology is a highly research-oriented field of study that tests students' knowledge of the history and application of psychological principles.
While attending online psychology courses, students will still partake in class discussions, writing assignments, and even research projects just as if they were attending traditional in-person classes. Instructors are easily contacted via course room e-mail, making communication easier than ever.
List of Masters in Psychology Degrees by Program
Below, you will find more specific information on specific psychology degree programs at the Master's level, including a list of all of the psychology schools for that degree program.
Outlook for Online Psychology Degrees
Some people find that having an online psychology degree is equally as profitable or even more profitable than having a traditional degree in psychology. In recent years, employers have greatly changed their opinion about the quality of online psychology degrees. Since these types of degrees have become much more common, the stigma surrounding them has largely reduced.
There are over 600 accredited online psychology degree programs available in the United States currently. With more and more students graduating with online psychology degrees each year, this method is becoming highly preferred for new college students.
As a whole, the field of psychology is one of the most popular degree choices in the United States. It draws individuals in from all walks of life. Psychology touches on all aspects of human behavior from emotional stability to life choices.
These professionals are highly sought out to fill positions in a variety of different fields. People are choosing this path due to its relevance in society, its versatility, and its convenience. Psychology students that choose to pursue a degree online can easily learn the concepts of mental health and cognitive theories while in the comforts of their own home. With the added convenience of a non-disrupted personal life, there is no better degree choice for those looking for an online degree program.