Settled peacefully on the shores of the vast Atlantic Ocean, North Carolina is a place where families can focus on each other. Not northern or southern enough to be considered either one, North Carolina is a mild-mannered state known for its plethora of reputable educational universities.
Clinical psychology is a popular field in this state, hinting to future learners that this is a profitable field in this area. Clinical professionals can earn from $40,280 to $95,730 per year. Regardless of how far a psychology student chooses to take their degree program, there is a positive outlook for career paths throughout his or her life.
$55,100
AVG Annual
Median Salary*
2,540
People Employed
in a Psychology Field*
---
Trends & Outlook for Psychology Careers
The median income for clinical professionals is $55,100 per year in North Carolina. Providing an environment that yearns for qualified professionals, North Carolina is a state of opportunity. Psychology is one of the most popular career fields available.
These professionals are needed in almost every walk of life, adding value to the degree. Some students choose to stop at the bachelor degree level while others choose to move on to graduate degrees and future licensure as a psychologist. For qualified psychologists, the state requires that an exam be completed and experience be supervised prior to licensure.
This guarantees that professionals working in the state be knowledgeable and reliable for potential clients. Working in the field of psychology allows for feelings of pride and usefulness in the working world. With job openings in abundance in this field, it is a popular degree choice for upcoming students throughout the U.S.
---
North Carolina Psychology Board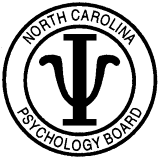 The North Carolina Psychology Board is located in Boone, and is responsible for the licensing, monitoring, educating of psychologists to ensure proper practices in the state.
Address:
North Carolina Psychology Board
895 State Farm Road, Ste 101
Boone, North Carolina 28607
Phone (828) 262-2258
Website
---
School Spotlight
Even with some of the most popular schools in the country, North Carolina offers some more modest universities that cater to the needs of psychology students. Appalachian State in Boone, North Carolina, is one of the most preferred schools for psychology majors. This school offers degree programs in psychology at bachelor's, master's, and doctoral levels. Students will find that the hands on attitude of the instructors at this school assist in making the experience worthwhile. For those wanting to know everything possible about psychology, this university has what it takes.