The sweet southern charm of Georgia draws in students from all around the United States each year. Georgia contains 47 accredited universities in which students can obtain a degree in psychology.
For students that already have a bachelor's degree in psychology, there are graduate programs available all over the state that can fit the needs of any career path.
Students will find the greatest diversity of programs in the capital city of Atlanta. Emory University, the University of Georgia, Georgia State, among others offer psychology degrees in Atlanta.
Those living near Georgia's border might consider looking for psychology schools across state lines. Chattanooga's psychology schools can be found on the Tennessee page. Jacksonville and Tallahassee schools can be found in the list of psychology schools in Florida.
Georgia's 9.6 million inhabitants are represented byaround 2,050 psychologists, the most popular degree path for students in this state. Professionals have found that they have the potential to earn over $120,000+ per year depending on their specialization (according to the US Department of Labor). A high earning potential is of many positive incentives that draw students into this field of study.
☰ Search Online Psychology Programs
Psychology Degrees in Georgia
The state of Georgia requires that all psychology licensure applicants receive a degree from an accredited university.
47
Accredited
Universities
$83,500
AVG Annual
Median Salary*
2,240
People Employed
in a Psychology Field*
*source: Bureau of Labor Statistics
---
Trends & Outlook for Psychology Careers
Psychology professionals are an important part of every community. From corporations to community health centers, psychologists provide an irreplaceable service. The Bureau of Labor Statistics projects that demand for psychology professionals will continue to grow, providing new opportunities to graduates.
The state of Georgia requires that all licensure applicants receive a degree from an accredited university. Once the degree is obtained and all other requirements are met, applicants can take part in the licensure exam. The exam is critical to become a practicing psychologist. It tests the knowledge and abilities of the applicant in order to prove that he or she is an able candidate for practice in the state.
Once individuals become licensed by the state, it is also necessary to keep up with continuing education requirements and license renewals.
---
Georgia Board of Examiners of Psychologists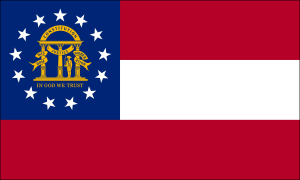 The Georgia Board of Examiners of Psychologists is located in Macon, and is responsible for the licensing, monitoring, educating of psychologists to ensure proper practices in the state.
Address:
Georgia Board of Examiners of Psychologists
237 Coliseum Drive
Macon, Georgia 31217
Phone: (478) 207-2440
Website
---
Georgia State University Graduate Psychology Programs
Georgia State University is popular for its football team and its noteworthy psychological staff. With 11 options for master's programs and nine doctoral programs, Georgia State University is a preferred choice for future psychologists.
Located in the hub city of Atlanta, this University has a constant flow of new students from around the country. Students can take part in psychological studies and testing that teaches real world material for future use. The prestige and experienced professors at this school make it a smart choice for individuals interested in a career in psychological fields.
☰ Search Online Psychology Programs
List of Online Psychology Degrees
All Psychology Programs
AD
Programs Currently Accepting Applicants
Click for admissions information & specific admissions requirements, length of the program, tuition rates, format and learning environment, and any other questions you might have.
Andrew College
☰ Associate in Science (AS) in Psychology
Armstrong State University
☰ Bachelor of Science (B.S.) and Bachelor of Arts (B.A.) in Psychology
Augusta University
☰ Bachelor of Science with a Major in Psychological Sciences
☰ Master of Science with a Major in Psychology
Berry College
☰ Bachelor of Arts/Bachelor of Science in Psychology (B.A., B.S.)
Brenau University
☰ Bachelor of Science in Psychology
☰ Master of Science in Clinical Counseling Psychology
Brewton-Parker College
☰ Bachelor of Arts in Psychology
Carver Bible College
☰ Bachelor of Arts (B.A.) in Psychology
Clark Atlanta University
☰ Bachelor of Arts in Psychology
Clayton State University
☰ Baccalaureate (BS) in Psychology and Human Services
☰ Master of Science in Psychology (Applied Developmental)
Columbus State University
☰ Bachelor of Science in Psychology
Covenant College
☰ Psychology Major, Baccalaureate Degree
Emmanuel College
☰ Psychology Major, BACHELOR OF SCIENCE (B.S.) OR ARTS (B.A.)
Fort Valley State University
Georgia College and State University
Georgia Gwinnett College
☰ B.S. degree in Psychology
Georgia Institute of Technology-Main Campus
☰ Masters in Industrial/Organizational Psychology
Georgia Military College
☰ Associate of Arts (AA) and Associate of Science (AS) in Psychology
Georgia Southwestern State University
☰ Bachelor of Arts and a Bachelor of Science degree in Psychology
Kennesaw State University
☰ Conflict Management (MS)
☰ Psychology B.S. (Bachelor of Science Degree)
Life University
☰ Bachelor of Science in Psychology
☰ Master's degree in Positive Psychology
Mercer University
☰ Bachelor of Science in Psychology
☰ Doctor of Psychology (Psy.D.) in Clinical Medical Psychology
☰ Masters of Science degree in Clinical Mental Health Counseling
Middle Georgia State University
☰ Bachelor of Science Psychology
Morehouse College
☰ Bachelor of Arts Degree in Psychology
Paine College
☰ BA in Psychology with an emphasis in Counseling
☰ BA in Psychology with an emphasis in Experimental Psychology
☰ Bachelor of Arts degree in Psychology
☰ Bachelor of Arts degree in Psychology
Piedmont College
☰ Bachelor of Arts in Psychology
Point University
☰ B.S. PSYCHOLOGY
☰ Bachelor of Science and the Bachelor of Arts in Psychology
☰ Bachelor of Science and the Bachelor of Arts in Psychology
Reinhardt University
☰ Bachelor of Science (B.S.) in Psychology
Savannah State University
☰ Bachelor in Behavior Analysis
Shorter University
☰ BA and BS in Psychology
South University-Savannah
☰ Bachelor of Arts in Psychology
☰ Bachelor of Arts in Psychology Experimental/Research Concentration
South University–Savannah Online
☰ Bachelor of Arts in Psychology
☰ Bachelor of Arts in Psychology Experimental/Research Concentration
Thomas University
☰ BACHELOR OF SCIENCE PSYCHOLOGY
Toccoa Falls College
☰ BACHELOR OF SCIENCE DEGREE COUNSELING PSYCHOLOGY MAJOR
Truett-McConnell College
☰ Bachelor of Science in Psychology
University of North Georgia
University of Phoenix-Georgia
☰ Master of Science in Psychology
University of West Georgia
☰ Bachelor of Science with a Major in Psychology
☰ Master of Arts with a Major in Psychology
☰ PhD in Psychology - Consciousness and Society
Valdosta State University
☰ B.A./B.S. Degree with a Major in Psychology
☰ Master of Science in Clinical-Counseling Psychology