Types of Psychology Programs
Consider a featured online psychology program currently taking applications.

View more featured 100% online psychology programs accepting applications for 2023.
Different Types of Psychology Degrees
There are multiple different kinds of Psychology specialties offered at US universities. By our count there are over 20 different specialties. All of the programs are typically offered at one or multiple of: Bachelor's in Psychology, Master's in Psychology, or Doctorate in Psychology.
The most common degree path for students in psychology is the bachelor's path. This path consists of 4 years of undergraduate education and lays a broad foundation for those involved. However, to practice clinically you will likely need a Doctorate degree, and a minimum Master's for most occupations.
The most common specialty paths are clinical psychology and counseling psychology. These are the most broad forms of their practice and give the opportunity for a number of different career paths.
Top Psychology Programs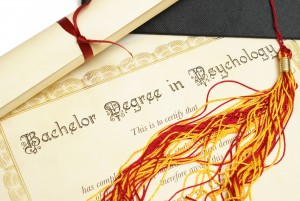 Individuals that are interested in the human mind and how it applies to human behavior are most suited for a career in psychology. This field has grown to be one of the most popular in the nation, providing jobs to millions throughout the country. Educationally, degree choices for those interested in psychology range from associate's to doctoral levels and provide a vast amount of major programs.
Throughout a student's educational experience, they will take part in research projects and laboratory experience that will give them an excellent foundation of experience. The information gathered through this program will educate students on how people behave and why they engage in the behavior. Having knowledge of human behavior will give graduates exactly what they need to be qualified professionals in a variety of fields.
Students can typically choose to pursue either a Bachelor's of Arts or a Bachelor's of Science in Psychology. Depending on what career path an individual has chosen, one of the specific degree paths may be more appropriate.
Psychology is a career option that provides both broad and specific options in the work field. At an undergraduate level, graduates have a broad range of working possibilities in a variety of entry-level positions. For those that desire to have a more specific area of focus for career options, a higher degree program is likely the wisest choice.
As a master's degree level, psychologists will find that the earning potential is high, and the availability for licensure is open in several different specialties.
Those choosing to become licensed to practice within their state are required to obtain at least a Master's degree in Psychology in their desired field. This reason in particular is why a majority of psychology students continue on to a higher degree after undergraduate education. Master's degrees typically require the standard 4 year undergraduate time frame, plus an addition 2 years for graduate work.
Taking part in this program truly pays off for learners seeking a profitable career choice for their future. Graduate level professionals earn more on average than undergraduates in their respective fields.
Search Online Psychology Programs
Top Psychology Programs
Undergraduate Courses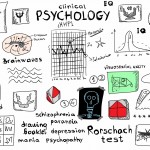 Starting in the first year of college, students will choose courses that will satisfy their prerequisite requirements, as well as their major-required courses. Typical prerequisite courses include those in communication, math, and humanities. In combination with this requirement, students will begin with introductory courses in psychology, such as General Psychology, Abnormal Psychology, and Statistics. These courses will prepare students for a future in research and application of psychological theories.
Since psychology is a relatively young science, previous research is still being scrutinized as a way of learning. While in undergraduate programs, learners will study the research of major psychologists such as, William Wundt, Sigmund Freud, and Albert Bandura. Each psychologist over time has contributed ideas to the field that contribute more information from different aspects.
Learning this information provides students with the tools for success in their futures. As students progress through the bachelor's program, the theories of psychology will be broken into different areas. Social psychology deals directly with the social aspect of psychology. Developmental psychology teaches students about how people develop mentally over time.
Professionally, a Bachelor's degree in Psychology will provide it's holder with a plethora of opportunity. As a specialist in human behavior and emotion, psychology graduates will hold the key to human interaction, which is a huge part of any business. Students that graduate with a Bachelor of Arts in Psychology will prevail in social services, customer service, and case work. Students with a Bachelor's of Science degree in Psychology will find a comfortable career in fields that require application of psychological techniques or research.
Some may believe that there is not a lot of potential with a Bachelor's degree in Psychology. However, employers view this degree as extensive experience working with people and understanding how to communicate. Graduates at this degree level can find many entry-level positions working with the public, or assisting psychologists in professional settings. Having this level of degree in psychology will give graduates options when choosing a career path.
It is a great foundation for those wishing to work in government agencies or in mental health facilities. For those that may even consider graduate education in the future, a Bachelor's degree in Psychology is an excellent choice for a complementary undergraduate degree.
Master's Level Classes
The typical undergraduate education for master's earners includes courses in psychology or sociology. An undergraduate program should complement the master's program in some way, so that the most information is gained throughout the program. Undergraduate programs in psychology provide students with the basic information needed for understanding human behavior and emotions. If individuals choose to pursue graduate level learning in psychology, they will already have the necessary foundation of psychology needed to continue through the program successfully.
In a graduate program, students will focus more narrowly on their specific degree program. Those majoring in clinical psychology will work both in the classroom and in the field to get experience working with clients. Application is a major part of most psychological majors, so the more information gained through school, the better off a professional will be in the field. Mental health psychology majors will spend a majority of their time studying concepts of abnormal psychology and therapy techniques. The major difference in undergraduate and graduate school is the independence that graduate students are given to prove themselves worthy of practice.
Graduate level students are required to take part in a graduate project in which they conduct their own research that is relevant to their major. Once this is completed, students qualify for graduation at the master's level.
Masters in Psychology Degrees by Program
Career Opportunities for Those With a Master's in Psychology
With a Master's degree in Psychology, graduates are permitted to apply for licensure for practice within their state. This consists of a period of supervised experience and a board exam in their respective field. The employment opportunities available after obtaining a master's degree are endless.
Individuals can work in hospitals or private practices, administering help to individuals or groups in need of guidance. School counselors are required to have a master's degree prior to licensure, which is a popular degree field at this level. These counselors work with students in schools to ensure that the learning path is designed for success for each individual student.
There is truly no end to the possibilities for those seeking higher degrees in psychology. As one of the most popular degree programs in the United States, it holds its mark as a productive and financially stable job choice for those entering universities.
Sometimes students find that even a Master's degree in Psychology is not enough to satisfy their personal goals. Students want to choose a degree program that is providing both for them individually and for society. Those seeking the best possible degree choice in psychology are typically satisfied at the doctoral level.
Providing the most extensive training in the field of psychology, doctoral programs are the most respected of all. As a professional choice, this degree program is the most providing, allowing professionals to work in applied fields or even teaching in universities. These degrees are the most in-depth programs available to those interested in psychology and provide the most knowledge available at the educational level.
The advantages to obtaining this high of a degree go well beyond the hard work it takes to get there. Being a doctor of psychology gives graduates the prestige and job satisfaction needed to have a long and effective career in psychology.
Curriculum for Doctorate Programs
Most students that are pursuing a Doctorate of Psychology will begin their journey with a relevant bachelor's program. Even though most students start with a Bachelor's degree of Psychology, some students have found it more effective to have lower degrees in sociology or biology. Regardless of the starting path, students will engage in 4 years of undergraduate school prior to being accepted into a graduate program.
Doctoral programs generally require 4 or more additional years of instruction, plus any required supervised clinicals. The lengths of these programs are extreme in comparison to lower degree programs, but prove to be useful for those entering into the field in the future. Doctors of psychology provide both invasive and non-invasive care to those they serve. Proving that they can provide care effectively and without mistake is a huge step in becoming a qualified psychologist. The graduate program in psychology consists on heavy research in a specific field.
All students must be able to conduct their own research and report their findings accurately before successfully passing a doctoral program. Degrees at the doctoral level include the Ph.D, which is appropriate for those seeking educational positions or research oriented careers, and the Psy. D., which is more scientifically focused for those wanting to work in applied fields.
Career Opportunities for Doctorate Degree Holders
Those working in the field with a doctoral degree will find that the career opportunities are vast. Doctors of Clinical Psychology are needed in hospitals and private practices to direct patients on how to make necessary changes in their lives. School psychologists at the doctoral level act as a consult for lower level psychologists, ensuring that children are given the right steps for success in educational settings.
Doctors of Psychology are even found in the research field. Since psychology is a relatively young science, new research is constantly being conducted to provide for more effective treatments. As the science grows, more professionals will be needed to provide extensive knowledge to others going into the field of psychology. Overall, a doctor in any field of psychology is an asset to the company in which he or she works.
As a truly knowledgeable graduate of psychology, professionals will find the employment world an inviting place to settle down into a lifelong career. The extensive training in the mental health field will provide for exceptional financial capabilities as well as job outlook for years to come.