Educational Psychology Degrees
Consider a featured online psychology program currently taking applications.

View more featured 100% online psychology programs accepting applications for 2023.
Find Educational Psychology Programs
Degrees in Educational Psychology can be amazing options for those interested in utilizing the techniques of psychology in the learning environment. This field of psychology combines aspects of cognitive and social psychology to create a unique field working with multiple age groups.
What are Educational Psychology degrees for?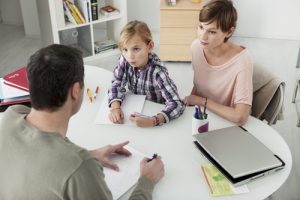 Educational Psychology degree programs can allow you to explore early childhood development from social, emotional, and psychological viewpoints. Within these programs, you can learn more about how the brain perceives new knowledge, where it is stored, and how it is retrieved.
In addition to standard studies about how learning takes place, you may also explore gifted and talented learners, individuals with learning disabilities, and developmental factors that can play a role in the effectiveness of learning programs.
A focus on the psychology of learning
Since Educational Psychology focuses on the learning capabilities of children and adolescence for the most part, you may spend a lot of your time exploring some of the social and environmental factors that can influence an individual's ability to learn in the educational environment. This can allow you to better serve children and young adults from diverse home environments and provide services that are relevant to children with different needs.
Preparing for an educational setting as a school counselor or psychologist
A degree in Educational Psychology can prepare you for working with children in the early educational environment, in school counseling settings, or even in curriculum design and research. In some cases, professionals with this degree designation may also work for local or state agencies focused on providing well-rounded care to communities in need.
If you would like to learn more about this unique degree program and how to find programs near you, read more in our guide below. Our team of educational experts has reviewed this degree specialty and the careers that can result from it in order to provide you with helpful information for your educational journey.
Are there online educational psychology degrees available?
Students entering into college degree programs in Educational Psychology may have multiple options to consider for their learning experience. Many institutions throughout the United States may be offering flexible learning options for students that are in need of maximum versatility with their degree program.
You may consider a generic psychology program especially for undergraduate
Online degree programs in Educational Psychology may be offered at multiple degree levels, making the availability of convenience widespread within many different needs groups. Online programs can be incredibly inviting for new college learners, adults returning to college programs, and even current traditional learners that are looking for more convenience within their program.
If you have yet to experience online degree programs, you might be surprised to see that these programs can offer the same types of activities and assignments as their traditional counterpart. Most online courses include classroom discussions, individual research projects, and quizzes throughout their duration.
Multiple resources are available for online course work
One of the advantages to online courses is that you can have instant access to resources for research, since most classes can provide you with links to online libraries and other important educational resources. Teachers of online courses may also conduct live lectures through video conferencing and provide students with pre-recorded informational sessions to utilize during their studies.
Communication is different but can be simpler
Many learners may choose online degree programs due to the ease in communication with their instructors and other learners. Through in-class email and chat tools, you can easily contact your teacher when in need and engage in conversations with other learners for group projects and information gathering.
If you are the type of student that prefers to learn independently and work at your own pace, online degree programs may be the right choice for you to consider. Traditional options may also be available for learners that are interested in the more classic learning experience.
Campus Based Degrees
Campus-based degree programs in Educational Psychology have long been the preferred choice for college-level students. Most universities offering Educational Psychology degree programs offer the traditional degree program as the primary option, with some offering online alternatives for students needing more convenience in their learning experience.
Some advantages of campus based learning
Campus-based programs allow you to engage in face-to-face learning with your instructors in the in-person classroom. Many traditional degree programs allow students to create their own schedule at the onset of the program, including choosing classes that take place during the early morning hours, in the afternoon, or even in the evening.
The advantages of choosing campus-based programs is that they may be offered more frequently than online programs. A large number of universities have attempted to make changes to their programs in order to provide in-person options for a larger population of learners within their acceptance area.
There are in person weekend classes
Some programs may even offer weekend learning opportunities for full-time workers or learners with busy family lives. If you are more effective as a learner in the face-to-face environment, you should seek out campus-based programs that can fit your individual needs.
Learning in the traditional environment can include attending in-person lectures on campus and engaging in face-to-face group activities within each course. You can also have instant access to your instructors, which can be beneficial to learners that are more efficient with available instructor support.
Traditional and online degree options in Educational Psychology can provide you with the same level of quality regardless of which university you choose. When making your decision as to which option to choose, you should consider your individual learning style and your preferences for instruction during your program.
University
Program
Admissions
University of West Alabama
Online Psychology and Counseling Degrees

Multiple programs: Bachelors in Psychology, Master's in Experimental Psychology (Clinical, Healht & Sports Psych), Family Counseling, Guidance and Counseling, Clinical Mental Health Counseling, and more.

Website
Pepperdine University
Online Master of Psychology

Choose your path at Pepperdine: pursue licensure as either an LMFT or LPC and serve diverse clients with our online master's in clinical psychology.

Website
Methodist University
Online Bachelor of Science in Psychology

Gain the skills for diagnosis, clinical interview procedures, behavior analysis, and more.

Website
University of Texas Permian Basin
Online BA in Psychology

Program provides a broad foundation of psychological science knowledge and emphasizes vital written communication and research skills that can inform and assist you in helping professions.

Website
Butler University
Online Master of Science in Mental Health Counseling

Cover topics like fundamental counseling theory, trauma and crisis response, and psychopharmacology. No GRE Required.

Website
Are There Bachelors in Educational Psychology Degrees?
Yes, bachelors degree programs in Educational Psychology can provide you with a foundation of knowledge suitable for many entry-level positions in this field. This program may take around 4 years to complete for most new learners since it includes general education courses required for all bachelors programs.
What a Bachelor of Educational Psychology Looks Like
The first 2 years of your program can include both introductory psychology courses and general education courses. You might take courses like English Composition, Sociology, and History as part of your degree requirements, while taking courses like Introduction to Psychology and Social Psychology to jump-start your psychological experience.
Coursework
Within the last 2 years of your program, your curriculum may become more focused on different psychological aspects relevant to your degree concentration. Courses like Cognitive Psychology can help introduce you to the internal functions at play during the early learning process, as well as some of the developmental milestones to recognize when working with diverse children in the career environment.
Goal is to move into a graduate program
The goal of these early degree programs is to provide you with generalized information for further learning at the masters and doctoral level. This program can allow you to explore the general functioning of the brain, how information is stored and retrieved, and some of the blockades that can occur during early development that can hinder normalized learning.
Post-graduation, entry level positions
You can utilize this knowledge during entry-level positions in the educational environment or even when learning in higher degree programs. Some students may also choose to pursue the Bachelors in Psychology as a stepping stone to Educational Psychology programs at the masters or doctoral level.
Since undergraduate programs in this field are mostly introductory in nature, the curriculum of both programs may be similar in nature and provide you with the same level of psychological understanding throughout. Both programs can also help you qualify for entry into Educational Psychology programs at the masters level.
Are There Masters in Educational Psychology Degrees?
Yes, the Masters in Educational Psychology may be one of the more popular degree options for individuals considering a career in this field. The masters program can provide students with a more advanced educational experience focused on this field, as well as allow for learning in specialized areas such as leadership.
What they look like
Licensing for psychologists is typically only permitted after completing a doctoral level program, so most masters programs are focused more in the research and development components of Educational Psychology. At this degree level, you could pursue positions in curriculum development, educational research, and even local and state government.
Typical coursework
At the beginning of your masters program, you may engage in advanced courses in Educational Psychology. The majority of your masters program may focus on different types of learners, such as those that are gifted, developmentally challenged, or those with diverse emotional and behavioral needs.
The unique aspect of this degree program is that it can allow you to explore the learning process for a variety of students and age groups so that you can better develop programs suitable for all learners. You might spend some time exploring programs for students with attention-deficit disorders and also view programs developed for students with developmental disabilities.
How long does a Master of Psychology program take?
Most Masters in Educational Psychology programs take 2-3 years to complete for most enrollees. During this time, you might take advanced courses in the theory and practice of Educational Psychology and participate in independent projects that allow you to utilize critical thinking skills to develop helpful solutions to mock learning scenarios.
Some masters programs may also allow students to engage in in-person internship opportunities in the field. Different universities have varying requirements depending on the focus of the program and where you are enrolled.
You should always review the degree requirements of your program before deciding to enroll. Your personal schedule, location, and employment status can influence whether or not you can be available for in-person components of some degree programs.
Search Online Psychology Programs
Doctorate in Educational Psychology programs are the terminal degree in the field
The Doctorate in Educational Psychology can be an excellent degree choice for individuals that are interested in choosing from a wide variety of career options after its completion. This degree program was designed for students that are motivated to improve what is known about this field through in-person practice and research.
To be accepted into a doctoral program
In order to be consider for acceptance into this program, you should complete a Bachelors or Masters in Educational Psychology prior to applying. Most programs at this level may require that you provide evidence of your previous degree, as well as proof of at least a 3.0 grade point average during your programs.
This program can be found in both the traditional and online environments, which can be inviting for a wide variety of learners seeking higher tier experiences in this field. Some online programs may be suitable for students that are currently employed or lack the free time to attend classes on campus.
What you might study including coursework
During your program, you may engage in independent research within the field of Educational Psychology. Some programs may require that you choose a research problem, gather data about this problem through reputable research studies, and suggest a change program to improve this problem.
Some of the courses during your doctorate may be focused on providing you with the research skills you need to develop a relevant research project, which can be helpful for students that have little experience in resource retrieval and experimental design. This program was designed to test your knowledge of the field as well as your ability to constructively contribute to new and innovative programs.
The entire doctorate program in Educational Psychology can take anywhere from 3-5 years to complete depending on your previous degree level. Some programs may allow you to learn at a part-time or full-time rate, which can be beneficial for learners with diverse needs.
Top 5 Courses for this Degree
| | |
| --- | --- |
| Learning and Behavior | While in this course, students can explore some of the early to current theories of learning and behavior in multiple age groups. While in this course, you may focus on aspects related to learning like social environment, behavior, cognitive development, and motivation. This course may also include the implementation of learning theory, developmental theory, and cognitive research as part of the learning process. The goal of this course is to further educate students on how learning occurs and the many different factors that can influence the integrity of learning in students faced with varying environmental factors. |
| Neuropsychology | At the onset of this course, students may spend some time exploring the anatomy of the human brain, its pathways, and different lobe functions. As they progress through the course, students may investigate prior theories related to neuropsychology including those related to biological development, trauma, and social influence. Students can also explore the functions of various neuropsychological disorders, physical traumas, and mental illnesses that may influence normal psychological development. |
| Learning Theories | This class can allow students to study some historical and current findings in learning research. An exploration of current educational practices, why they were developed, and their effectiveness can provide students with knowledge pertaining to previous applications, their failures, and what was learned along the way. In addition to a historical exploration, students may also research current technologies and their utility in the current learning environment, as well as upcoming learning options and how they were developed. |
| Philosophy of Education | Educational Psychology learners can explore their own viewpoints and priorities through development within this course. While participating in independent and group projects, students can compare their own views of the educational fields with those of others in an effort to better understand their own place and purpose in the field. The goal of this class is to provide students with a foundation of understanding of this field as a whole so that they can develop their own philosophy about education and their effect on those being served. |
| Diversity in Education | Diversity in education can apply to the students being taught, the material being delivered, and the educators responsible for delivering the curriculum. This course can allow students to look deeper into the various cultures, ethnicities, and social classes of all people included within the educational setting in order to learn more about each group. Since the field of education includes people from all walks of life and socioeconomic status, Educational Psychology learners should be prepared to work with and provide services to members of all groups. |
Outcomes, Careers, & Salaries
After you have completed the educational steps required to obtain positions in the field of Educational Psychology, you may have access to many diverse positions in the field. Different learners may be attracted to different career options in the fields of education and mental health, making the possibilities almost endless for those interested.
Educational Psychologist Career
One of the most popular career options for individuals pursuing this degree is Educational Psychologist. This title not only requires that you complete several educational steps, but also requires that you engage in a supervised experience requirement and follow all recommendations of your state's licensing division.
Minimum educational requirements
The minimum degree requirement for psychologists throughout the United States is a doctorate, since this licensing can allow you to provide one-on-one services to clients in need. Many educational programs in the online and traditional environments can help you prepare for the licensing journey ahead.
Licensure
After obtaining licensure, you can pursue careers as an Educational Psychologists through schools and social service agencies within your area. The Bureau of Labor Statistics reports that psychologists throughout the United States can earn around $80,370 per year on average.
Working at community agencies
Some community service agencies within your area may also seek out leaders that have received at least a Masters in Educational Psychology from an accredited university. In positions like this one, you can provide management and direction to teams of professionals providing vital services to children in need.
Salaries
According to the BLS, managers in the community service setting can earn $67,150 per year on average in these positions. If you are interested in applying your skills in areas focused specifically on education, you can also pursue careers in early childhood education, childcare services, and curriculum development.
Other option is an Instructional Coordinator
Another unique career option for Educational Psychology graduates is becoming an Instructional Coordinator. These professionals may be responsible for developing educational programs, curricula, or even support programs for students in the school setting.
Instructional Coordinators can earn around $66,290 per year on average according to the latest data from the Bureau of Labor Statistics.
Bowie State University
Bowie
Master of Arts and Certificate of Advanced Study in School Psychology