Master's in Childhood Psychology Degrees
Consider a featured online psychology program currently taking applications.
University
Program
Admissions
Northwestern University
MA in Counseling Online

Through dynamic clinical training and coursework, Counseling@Northwestern offers a CACREP-accredited online Master of Arts in Counseling from The Family Institute at Northwestern University.

Website
Concordia University - Saint Paul
MA in Family Science
Website
View more featured 100% online psychology programs accepting applications for 2023.
Childhood developmental studies and child welfare degrees
There are many different fields of psychology for you to choose from as an upcoming professional. Psychology as a science can concern the mental processes, cognition, emotions, development, or behavior of the group that you choose to work with.
One of the most popular fields for students to choose at the master's level is Childhood Psychology. This branch of psychology has gained popularity due to the need for more attention in childhood developmental studies.
The past experiences, instances of trauma, and social interaction that children experience can play a role in how they develop into adulthood. Studies in this field can help shape a more positive environment for learning, personality development, and social functioning for children that are preparing for independent lifestyles.
Read more about Online Child Psychology Master's Degree Programs.
University
Program
Admissions
University of West Alabama
Online Psychology and Counseling Degrees

Multiple programs: Bachelors in Psychology, Master's in Experimental Psychology (Clinical, Healht & Sports Psych), Family Counseling, Guidance and Counseling, Clinical Mental Health Counseling, and more.

Website
Arizona State University
Online Master of Science in Psychology

Learn about the many roles filled by psychologists through a curriculum emphasizing cognitive, developmental, physiological and social psychology.

Website
Northwestern University
MA in Counseling Online

Through dynamic clinical training and coursework, Counseling@Northwestern offers a CACREP-accredited online Master of Arts in Counseling from The Family Institute at Northwestern University.

Website
New York University
MA in Mental Health Counseling

Prepare to become a mental health counselor. Accredited by the MPCAC. As few as 21 months to complete. GRE not required.

Website
Pepperdine University
Online Master of Psychology

Choose your path at Pepperdine: pursue licensure as either an LMFT or LPC and serve diverse clients with our online master's in clinical psychology.

Website
Search Online Psychology Programs
What is Childhood Psychology?
Childhood Psychology is a branch of psychology that is concerned with the study of infants, toddlers, children, and adolescents. The main purpose of this field is to potentially gain a better understanding of what individuals within this group need to thrive and lead happy and health lives.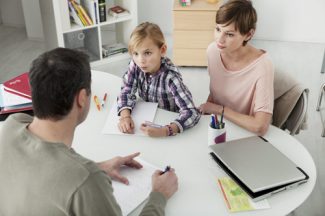 Studies in this field include a look into cognition – which can show how and why children gain the ability to learn and process information, social psychology – which looks at interactions and relationships in a child's environment, and clinical treatment – which outlines the processes for providing interventions to children in need of assistance.
Some of the topics included in this discipline include a looking into the influence of biology on a child's behavior, cognition, or emotions, defects or deficits that are present within childhood in cognition, the effects of traumatic occurrences, health's influence on a child's mental state, and problems adjusting in a social context. Learning how to address different disorders or deficits can help professionals be more effective in treating children or providing assistance in creating more supportive environments in which children can thrive.
What you can learn throughout this degree program can provide you with skills needed to help children find healthy ways to cope with unexpected life events, assist with changing behavior to a more acceptable state, and promoting healthy adjustment throughout the childhood stage.
Example Courses in Childhood Psychology
Universities that offer Child Psychology Master's programs are expected to provide a set of courses that best allow for growth in this field. Accredited universities are the only ones that can provide degrees that lead to licensure, which is something to consider when choosing a degree program. The course work that you take part in during your program may focus primary on the mental, emotional, and developmental psychology of children from birth to adolescents. Our team has provided some example courses below for you to review.
Cognitive Processes: Students within this course may have the opportunity to learn more about how memories are formed and stored, how language is learned and passed on, and how children learn throughout different stages of their lives.
Social Psychology: This course studies how children interact with their social environment and how this plays a role in the development of personalities, resilience, identity, and attitude.
Lifespan Development: Lifespan Development is a course that outlines the psychological development of children from before birth until adolescence. Students in this course may learn how early childhood experiences can shape a child's future in profound ways.
Theories of Personality: This course takes a look at the different theories of personality development from an unbias standpoint. Students taking this course may be expected to understand what each theory contributes to the field of psychology and how they can be useful in a clinical setting.
Developmental Psychology: This course outlines the developmental milestones that are related to biological, social, cognitive, and emotional health. Students within this course may study different perspectives of development and weigh their contribution to psychology in current times.
What can I do with a Master's in Childhood Psychology?
Although most people think that becoming a Child Psychologist is the most sought after career with this degree, there are actually several different options. Having a master's level education in Child Psychology can lead to careers that act as consultants for social service agencies, consultants in the creation of helpful educational programs and environments, and even leaders within social services agencies. Some popular job titles are listed below this section.
Child Psychologist
Behavior Interventionist
Cognitive Psychologist
Social Psychologist
Foster Care Specialist
Social Services Team Manager
Educational Specialist
Steps to becoming a Child Psychologist
Step 1: Obtain Your Bachelor's in Psychology
Obtaining a Bachelor's degree in Psychology is the first and most fundamental step to becoming a Child Psychologist. At this level, students can learn about the basic ideas and theories surrounding the field of psychology, which can help them become better practitioners in their career. Most Bachelor's in Psychology programs can be completed in around 4 years at full-time enrollment.
Step 2: Enroll and Complete A Master's Degree
After obtaining a Bachelor's in Psychology, students move forward into master's level programs. In order to become licensed as a psychologist in any state, students must have obtained a minimum of a Master's in Psychology within their chosen discipline. For Child Psychologists, the best specialization or concentration to choose for a degree program would be Child Psychology, Developmental Psychology, or Childhood Development. Most students can complete the master's program within 1-2 years depending on the university.
Step 3: Achieve Supervised Work Experience
Obtaining the right degree is not the only step to becoming a trusted provider in the field. After you have completed your master's program, you are expected to find a supervised working environment in which you can observe other licensed professionals during every day work. This experience should last between 2 and 3 years for most states and can teach you more about your responsibilities in the field. Most states require that you register through their department of psychology prior to beginning your supervised experience.
Step 4: Register and Complete State Board Exam
This examination is provided to all upcoming psychologists and is a requirement for licensure. You may also be expected to obtain certification through the American Board of Clinical Child and Adolescent Psychology, which includes the completion of another board examination that focuses specifically on the application of child psychology.
Step 5: Licensure
Once you have completed all of the above steps, you can apply for licensure within your state. This process involves providing proof of degree acquisition, test scores, and supervised work experience. Most states also submit all applicants to a background check and short state law examination to ensure that are fit to practice within their state. After all of these steps have been completed, you will be free to work as a Child Psychologist within your state.
Potential Earnings in Childhood Psychology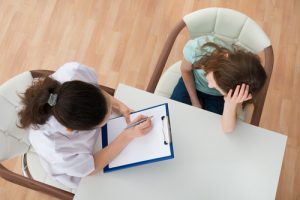 The path that you choose for your career can greatly affect the amount of money you make as a psychologist. Child Psychologists are needed in many different settings, including private practice, clinical environments, schools, and even government agencies.
The role that these specialists play may vary depending on the field that they choose, making the ability to earn diverse for this field. Our team of education experts has been researching educational programs and careers for over a decade. They have found some interesting data regarding salary information for Child Psychologists below.
Clinical, Counseling, and School Psychologists: $73,270 on average per year (BLS).
Psychologists – Elementary and Secondary Schools: $72,910 on average per year (BLS).
Psychologists: $75,230 on average per year (BLS).